'Everyone was stunned': Snow falls in Sahara desert town for first time in 37 years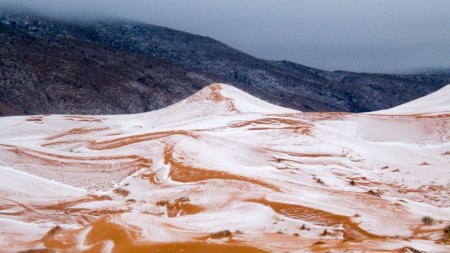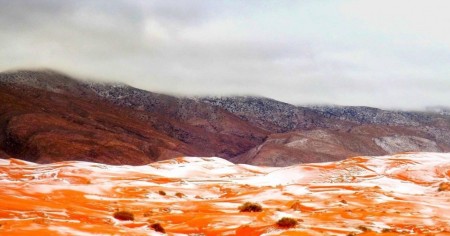 In the Sahara desert, known for its suffocating heat, a freak snow shower coated the dusty dunes near the Algerian town of Ain Sefra.
It hadn't snowed in the town called "The Gateway to the Desert" since 1979.
Photographer Karim Bouchetata captured gorgeous images of the red rolling dunes frosted in white.
"Everyone was stunned to see snow falling in the desert, it is such a rare occurrence," Bouchetata told the Independent. "It looked amazing as the snow settled on the sand."Bouchetata added that the snow lingered a day before melting.
Ain Sefra, founded in 1881, has a population of about 35,000. It's in western Alegria about 28 miles east of the border with Morocco.While it has a blistering hot summer climate, with average highs around 100, it's somewhat chilly during winter. Perched at an elevation of more than 3,500 feet (1,078 meters), its average December high temperature is only around 50, with average lows in the upper 30s.